Medieval French Roads
Introduction
Welcome to the Medieval French Roads Project. Here you will find a digital map of roads and bridges in France between the 11th and 16th centuries. The map has been created using a variety of primary sources, from well-known itineraries such as the Itinerarium de Brugis and Charles Estienne's La Guide des Chemins de France, to unpublished manuscript sources.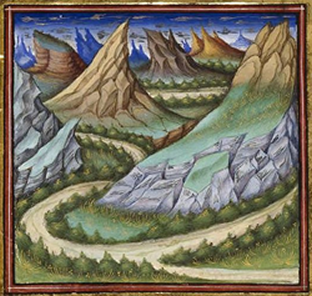 A database has been created which provides essential details about each individual stretch of road and bridge including its century of attestation, source, any notes in the source text, and, where necessary, our own notes.
Using the Map
The map view is customisable by date, source, and by level of detail which allows users to create their own bespoke maps, isolating a particular source or sources, specific centuries, and decide whether to view a simple itinerary of places linked with a straight line or our own recreation of the approximate actual route. These approximate routes have been created by reference to the medieval sources themselves, topographical features, historical maps, and the modern road network. The medieval walls, gates and major internal roads of important towns and cities have also been digitised to provide users with a better impression of the size of medieval settlements and their place in the road network. The database entry for each feature (whether route, bridge, city gate or wall) will pop up when that feature is clicked on. The result is a powerful tool for the dynamic visualisation of a variety of textual sources which have been brought together here for the first time. The concerns of the pre-modern traveller, whether commerce, pilgrimage, military, or even simple curiosity, are well represented in these sources, and we hope that researchers, students, and others with an interest in these areas will find the map a useful resource.
A Note of Caution
No map can be exhaustive, and ours is no exception, so the absence of a route on this map should not be taken as conclusive evidence of the real-world absence of that route. Those familiar with using pre-modern sources need no further warning about the potential pitfalls that entails. Moreover, particularly at the local level, road networks in France between the fall of Rome and modernity tended to be characterised by what Jean Mesqui called a "hairy" (chevelu) mass of interconnecting routes both old and new. In these circumstances, a high-level approach such as ours cannot hope to reveal the full extent of the byways, highways, paths, and tracks that crisscrossed France then as now.